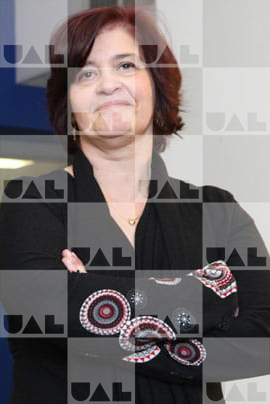 isilva@autonoma.pt
Isabel Fernandes Silva holds a PhD in English Philology from the University of Salamanca (Spain) and a degree in Modern Languages and Literature, English and German Studies, from the Faculty of Arts of the Classical University of Lisbon, having also completed advanced training in Electronic Tools Applied to Translation, Proofreading (University of Tarragona, Spain) and Teaching English with Technology (the consultants-e in association with Trinity College, London, UK).
Professor of Translation and English at the Universidade Autónoma de Lisboa (UAL) since 1986, she is currently a professor at the Department of Communication Sciences, namely in the areas of Visual Communication and Communication and Culture in Portuguese Language. It also coordinates a postgraduate course in the field of translation, as well as Portuguese language courses for speakers of European and non-European languages (eg Mandarin speakers).
Author of the book The British Abroad in EM Forster's Fiction, of scientific articles on translation, multimodality and technology-enhanced learning, she is a reviewer of international scientific journals and a member of international scientific organizations, namely the European Translation Society and the International Council for Educational Media.