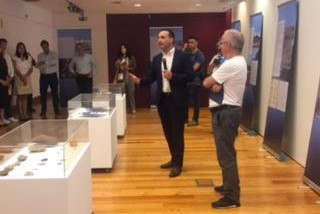 Last Friday, June 23, in Vila Velha de Ródão, the launch of the 2nd edition of the book "Cobrinhos and the first Neanderthals in Portugal" was launched, by Professor Telmo Pereira (DHAH-UAL) and Master Alexandre Paya .
A partnership between the Municipality of Vila Velha de Ródão, represented by President Luis Miguel Ferro Pereira, and Autónoma Edições (CEU-UAL), represented by Raquel Medina Cabeças, whose launch was attended by the Secretary General of Commerce and Services , the Mayor of Vila Velha de Ródão and the President of the Municipal Assembly of Vila Velha de Ródão.
After the launch, the exhibition that accompanies the edition and all the work developed in Cobrinhos and other archaeological sites since 2014, which will continue with the European project – iNEAL, was opened.