In a context of increasing centrality of Asia-Pacific in world geopolitics and geoeconomy and of China's affirmation as a new superpower, the OBSERVARE-Observatory of Foreign Relations of UAL, in partnership with the National Defense Institute (IDN), invites you to participate in the cycle of online conferences and open classes "China and Asia-Pacific", coordinated by Prof. Doctor Luis Tomé and with the collaboration of prestigious national and foreign experts. This cycle is associated with the UAL and IDN Asia-Pacific Advanced Studies Course.
The last sessions of this cycle will take place on the 1st of July, with the conference "China and Portuguese-speaking Countries" – where Francisco Leandro, Pedro Paulo dos Santos, Cátia Miriam Costa, Daniel Cardoso and Paulo Duarte will be speakers – and the open class "The China factor in the New World Order" by Luis Tome.
Participation is free, but implies iEmail application to the UAL Department of International Relations (DRI@autonoma.pt), then receiving the respective access link on the zoom platform.
Conference China and Portuguese Speaking Countries
12pm – 1.30pm
The geopolitics of the new silk road and the PLP: East Timor and Mozambique
Francisco Leandro, Univ. City of Macau and Institute for Research on Portuguese-Speaking Countries
The geopolitics of the new silk road and the PLP: Portugal and the South Atlantic
Pedro Paulo dos Santos, Univ. City of Macau and Institute for Research on Portuguese-Speaking Countries
15:00 – 16:30
Chinese discourse for Portuguese-speaking countries
Cátia Miriam Costa, CEI-ISCTE/IUL
China in Brazilian Foreign Policy: from Lula da Silva to Bolsonaro
Daniel Cardoso, Univ. Autonomous of Lisbon and OBSERVARE
The Sino-Brazilian partnership in the Global South: a geopolitical view
Paulo Duarte, Univ do Minho and Univ. Lusophone from Porto
Open Class
18:30 – 20:30
The China factor in the New World Order
Luis Tomé, Director of the Department of International Relations at UAL and Director of OBSERVARE
Moderation: Helena Carreiras, Director of the National Defense Institute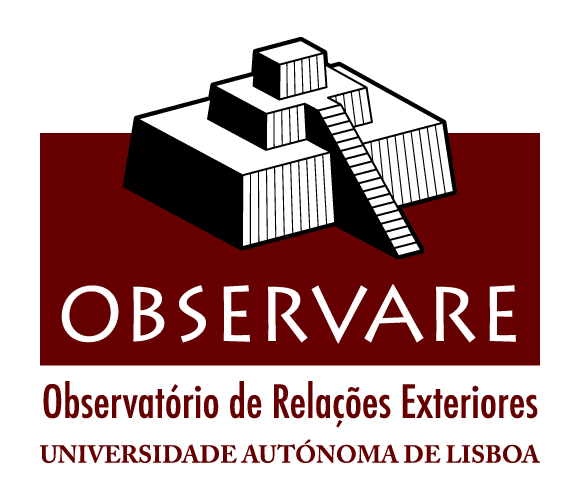 Department of International Relations